The Project of "Greater Israel" is to create a number of proxy States, which could include parts of Lebanon, Jordan, Syria, the Sinai, as well as parts of  Iraq and Saudi Arabia. HowEver…Israel's neighbors are now BRICS nations. Sovereign, independent countries!  Israel is down to a sliver with nowhere to expand! The Abraham Accords were dead in the water. So what now is Israel's purpose on earth?
Addressing followers, Nasrallah claimed Israel may not survive to celebrate its 80th birthday, referring to its upcoming 75th Independence Day.
Hamas leaders Marwan Issa from the Gaza Strip and Saleh al-Arouri have also warned of "surprises" for Israel ahead, as Muslims prepare to mark the holy month of Ramadan, which invariably generates tensions in the West Bank, Gaza and east Jerusalem.
In Israel, meanwhile, rhetoric by nationalist extremists like National Security Minister Itamar Ben-Gvir and Finance Minister Bezalel Smotrich continue to stoke the fires simmering on both sides.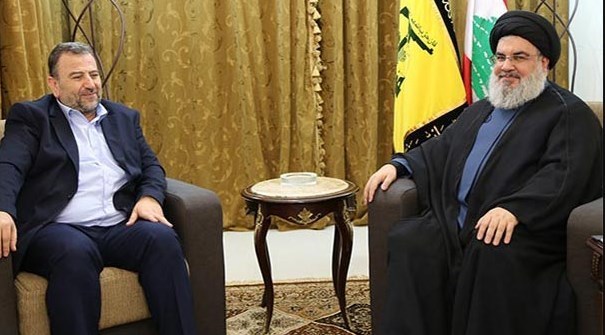 Hezbollah Secretary General Sayyed Hasan Nasrallah received a delegation from Palestine's Hamas resistance movement, led by the deputy head of its politburo, Saleh Al-Alrori.
Sayyed Nasrallah and Al-Alrori tackled the latest developments in occupied Palestine, especially the heroic resistance operations in the west bank and Al-Quds (Jerusalem), as well as the Israeli protests in "Israel".
They also discussed the latest political developments in the region and the responsibilities placed on the resistance movements and the entire axis of resistance in this historical stage.